 Unveiling selected young innovators who are changing the old rules of the game and forging forward.
CEOS Network Shortlists Finalists for Under 30 Awards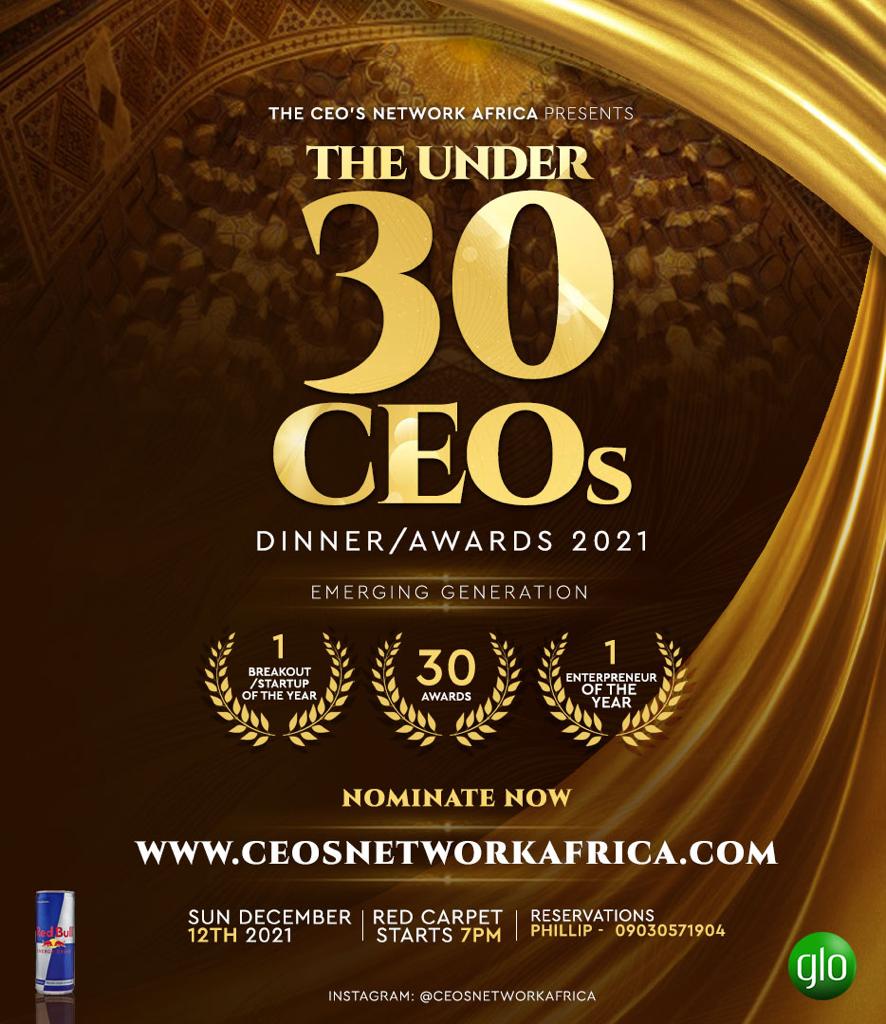 CEOS NETWORK AFRICA, the organizers of the Under 30 CEOs awards is glad to unveil the list of nominees for the most anticipated awards and gathering of prominent young African entrepreneurs.
A total number of 1379 nominations were received from across the continent and the finalists were critically screened and selected from different walks of life by the award committee.
According to Alli-Bob Cinwon, the award committee chairman, he said: "It was an Herculean task selecting these finalists as there are a lot of young people doing amazing things and breaking new grounds but our final selection was based on merit and proven track record.
"The quality of the entries received simply proves that young Nigerians are indeed very resourceful, resilient and extremely hardworking."
"The eventual winners of will be announced at the under 30 CEOs awards scheduled to hold on the 12th December 2021 at the prestigious Bon Hotel Elvis In Abuja.
He also disclosed that Hon. Shina Abiola Peller, Dr Linus Okorie CEO GOTNI leadership Center, Comrade Auwal Musa Rafsanjani, Executive Director of CISLAC amongst other dignitaries will be present at the event.
The theme for the Under 30 CEOs Awards 2021 is "The Emerging Generation"
Agriculture
Outstanding young people with exceptional achievements in the agricultural sector.
Beauty & Cosmetics
Individuals with exceptional achievements in the beauty industry; hair, nails and make-up artist, skin care experts.
Break-Out Startup
Startups that have added significant value and caused significant change in both social/economic development.
Creativity & Art
Exceptionally creative individuals who added significant value to the creative industry; fine arts, painters, pottery, film makers.
Evergreen Initiative Prize for Education
Individuals that have developed/engaged in ground breaking educational innovations and activities
Entrepreneur of the year
Enterprising individuals who have shown/demonstrated pro-activeness in delivering solutions in the business world.
Events
Outstanding event planners or event solutions companies headed by an Individuals under 30.
Fashion
Remarkable fashion directors/designers, stylists and fashion influencers.
Finance
Young, leading finance icons with significant impact and advance in the finance sector.
Food & catering
Exceptional food service providers; chefs, restaurants, companies.
Hospitality
Exceptional food service providers; chefs, restaurants, companies.
Make-Up
Outstanding Make-Up Artists.
Manufacturing & Industry
Remarkably innovative individuals that have made ground breaking impact in the manufacturing sector; shoes, bags, textiles production etc.
Marketing & Advertising
Most outstanding PR teams/company and Individuals.
Media
Media houses and channels that have done excellently well in engaging its audience; news, entertainment.
Music
Best breakout artists, distribution companies in the past year.
Online Personality
Most influential Online Personalities on Radio, TV and Social Media.
Photography & Videography
Individuals with exceptional creative skills in photo/video shoots, editing.
Politics & Governance
Exceptional individuals driving and influencing political change and policies.
Public Service
Individuals that have significantly impacted the community through public service.
Real Estate
Individuals that have made great and profitable strides in the real estate world.
Social Impact
Most influential social entrepreneurs who have made great impact on community development .
Social Media Influencer
Most Influential personality across all social media platforms.
Solohan Lawyer of the Year
Laguru Sport & Wellness Award
Outstanding sports and gym instructors/company.
Technology
Individuals with outstanding technological innovation; fintech, agrictech.